Lesser known sites for free images
Pictures are a big part of modern, attractive web content.
If you don't want to bankrupt yourself on image rights, it pays to look for free sources for images.
Now, as these sources go, most of them have been listed up and down already.
The old ape has compiled a short list of German and other image sources – hey, you don't need to speak the language to use the pictures, right?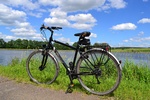 The images on pixelio can be used after a cost – free registration. The image quality spans the whole range from amateur to pro photographer, but there are enough interesting shots in there to make it worth your while.

Again all ranges can be found here, but the overall quality is quite nice. The free photos are subtly bracketed by "premium photos", though. Once you know where to look, there are loads of free photos available.

As far as the old ape can see, thse pictures are free even for commercial use in electronic media. So if you print them, you'd have to pay, but sites should be fine.
Please check the FAQ for this.

A very small German site with free images of highly varying quality.

Wide variety of images (and quality), not so subtly accompanied by advertising. However, worth a look.
Hope this list of lesser known image sources helps you find the image you need.
After writing about this a few times, I have compiled the ultimate list of free image sources.